Introduction to common battery cage systems
The choice of battery cage system is also very important to raise high-yield and healthy chickens. Buying a comfortable chicken cage is also part of the successful development of poultry farming. So what are the common battery chicken cage systems?
Layer battery cages are generally suitable for use from 15 weeks to the end of laying. The size of the chicken cage is 1950mm*450mm430mm (breeding 160 birds) 1950mm*350mm*380mm (breeding 120 birds). The bottom of the chicken cage has a 9° inclination angle. The top and back meshes have a large aperture range for flexible control. However, the apertures of the side nets are preferably 25-30 mm high and 40-50 mm wide. Because this net prevents chickens from pecking at each other, each cage can hold 3-4 chickens.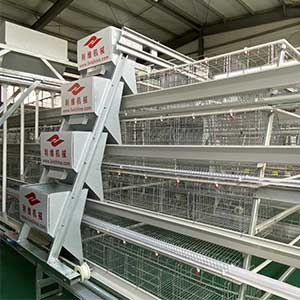 Brooder cages are typically used until chicks are 140 days old. They are generally housed in cages with 3-4 layers overlapping. The total length depends on the size of the breeding. The height of the cage is 100-150mm, the length of each single cage is 1200mm, the height of the cage is 300-400mm, and the depth of the cage is 625mm. The mesh of the cage is rectangular or square. Each cage can hold about 12 chicks. A set of brooder cages can hold 150 to 200 birds.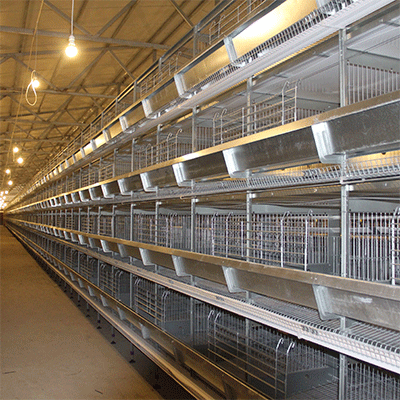 Growth cages are generally used when chickens are 41 to 140 days old, with three or four layers. Each single cage is 1050mm long, 800mm high and 420mm deep. Each cage can hold 17 chicks.
Battery Cage System
Most chicken cages are now battery chicken cages. The cage structure and stocking density are similar to rearing cages. Some farms also use flat nets to feed them.
The design of the battery cages has a significant relationship with the growth and development of the chicken. A more reasonable chicken cage design will be more conducive to the growth of chickens. The principles of battery cage system material selection, equipment maintenance, inspection and maintenance, chicken house disinfection, ventilation, chicken cage construction, and the quality of breeding personnel are unified and standardized. These behaviors are worth learning from.
back to top